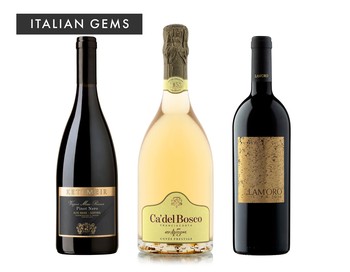 Italian Holiday Trio
Quantities are limited! This special trio features a few of our favorites from Italy.
Includes one of each:
LAM'ORO is a Super Tuscan, named for the Lamole terroir that is unique and seductive: the Oro ("Gold") of Lamole. It features a beautiful blend of songs, Cabernet Sauvignon, and Merlot.
91 James Suckling
Founded in 1919 by Giuseppe Kettmeir, this winery has remained true to ancient local traditions while adapting to the needs of the modern age. Making elegant varietal wines with a strong sense of place and respect for the environment is a philosophy reflected in every bottle. The fruit for this single vineyard wine is sourced from Vigna Maso Reiner in the village of Pochi di Salorno.
ROCO staff find this Pinot Noir especially intriguing!
Ca' del Bosco, founded in 1969, is one of the world's foremost producers of Franciacorta and Italy's most revered sparkling wine from the Lombardy region. The winery's state-of-the-art cellar, unique in Franciacorta, allows the winemaking team to produce the best wines possible and of the highest quality.
Only the finest Chardonnay, Pinot Nero, and Pinot Bianco grapes from the best vineyards, vinified separately and skillfully blended with reserves of the finest vintages (at least 20%) go into the magical rite of Cuvée creation. It will take almost 24 months of refinement on yeasts before this wine is ready to express all its richness and identity. A classic, well-balanced Franciacorta, pleasantly fresh and crisp.
---
HOLIDAY SHIPPING OFFERS
12+ bottles
Complimentary Ground
$50 Flat Rate 2-Day Air
6 bottles
$15 Flat Rate Ground
$50 Flat Rate 2-Day Air
HOLIDAY SHIPPING DEADLINES
For arrival by Thanksgiving:
Ground Shipping: order by November 13th
2-Day Air Shipping: order by November 16th
For arrival by Christmas and New Year's Eve:
Ground Shipping: order by December 8th
2-Day Air Shipping: order by December 13th
Please note, these shipping timelines are to be used as a guide only and are subject to carrier and weather delays. Weather holds may apply to Ground Shipping. Holiday delivery not guaranteed. Please place orders early to ensure the timely arrival of your wine!
Currently available for Tasting Room pick-up or shipping to AK, CA, DC, FL, ND, NE, NM, NV, OR, & WY.
Club discounts applied at checkout.
Sign up for our e-mail newsletter