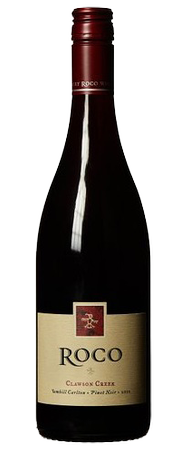 2012 Clawson Creek Pinot Noir
VINEYARD NOTES
At the beginning of the 20th century, Savannah Ridge located in the Yamhill-Carlton AVA was the site of a thriving orchard. It was abandoned and returned to the wild with the collapse of the fruit market at the end of World War I. Using organic and sustainable methodologies, the vineyard was restored to environmental and ecological health. The first 21 acres of the Clawson Creek Vineyard on the Savannah Ridge were planted to Pinot noir clones 777, Wädenswill and 115 in 2006, with an additional 13 acres planted in 2007, totaling 34 acres.
2012 VINTAGE NOTES
The 2012 vintage could be tagged as a "Mother Nature made these wines" sort of vintage for the most part. Bloom and fruit set traveled from normal to well below normal. Cold weather and some negative effects from hail drove yields generally down. But, that can be a GOOD thing as smaller clusters and good dry weather leads to ripe fruit for wine. When a grower cannot over crop their vineyards, all wineries can win with high quality. The key challenge to the successful farmer this year was the fact that the period of July through October was the driest since record keeping began in the late 1800's. Potential desiccation was further exacerbated by very dry, east winds coming out of Eastern Oregon/Washington's high desert. This wind period was the longest I can remember in my 27 years of Oregon winemaking. Vines already starved for moisture will not fair well under these late fall conditions. Belief in the weather forecast and seeking balanced fruit, caused us to give our vines a nice drink of water just before the east wind event. This allowed the vines to continue to photosynthesize and for the berries to stay plump and fruity. If I had to compare this vintage to past ones, I'd probably pick a 50/50 blend of 2000 and 2008. We got excellent ripeness while retaining fresh natural acidity and mineral mouthfeel. Across the board, all ROCO wines white and red turned out extraordinary quality! We were allowed to pick fruit under lovely fall sunshine at a leisurely pace, and with perfectly dialed-in maturity. Happy Days! While Mother Nature delivered rich, wonderful wines, ROCO customers should not procrastinate purchasing the 2012 wines, as quantities are quite low.
WINEMAKER TASTING NOTES
Dark, fathomless color. Big, brooding, blackberry-fruited nose with a touch of cocoa leaf. Concentrated mouth feel. Has real power and broad tannin shoulders. Not for the faint of heart. The tannins add grip to the very rich black fruit. The finish is blackberry with Southwest Indian spice, black pepper, and a splash of clove and Ceylon cinnamon. Classic Yamhill-Carlton Pinot noir.
Wine Specs
Appellation
Yamhill-Carlton AVA
Sign up for ROCO's email newsletter