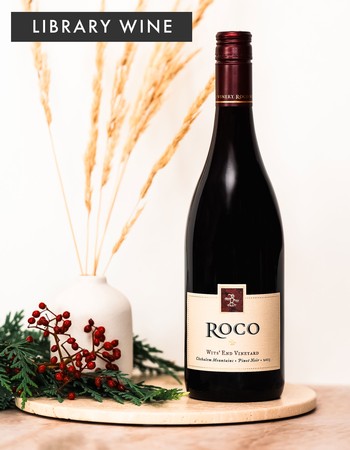 2013 Wits' End Pinot Noir
This holiday season you can access this rare Pinot Noir that's no longer in production.
ABOUT WITS' END VINEYARD
Wits' End vineyard, owned by ROCO's founders, sits on the southwest slope of Chehalem Mountain Range at 400 feet elevation. Shielded from winds by the coastal range to the west and Dundee hills to the south, it boasts high plant density (2,200 vines/acre) on devigorated rootstocks with three unique Dijon Pinot noir clones. The site features mainly marine sedimentary soil, managed for low yields. It's watered by a year-round flowing freshwater spring.
2013 VINTAGE
Spring was sunny, but mid-June turned cool and wet, making bloom midpoint hard to pin down. Fruit set happened in the third week of June, leading to a late October harvest. The rest of summer was unusually dry, with a normal rain in early September aiding the drying vines through veraison. From September 21st to the 27th, wet, monsoon-like conditions prevailed. ROCO harvested white and sparkling wine grapes before the 22nd and most red grapes by the 27th. The fruit was remarkably clean thanks to our diligent farming methods. These are the wines I aspired to create.
WINEMAKING
ROCO Pinot Noir is handpicked and then chilled overnight to 38°F in our large cold room. The chilled bunches are gently de-­stalked and the whole berries fall into small 1.6 ton open fermenters. The berries soak for about five days before beginning ferment with our proprietary, house-­cultured indigenous wine yeast. Soaking allows gentle extraction of color and flavor from the berry skin, and not the bitter-tasting seeds. The fermentations are hand punched twice a day to mix skins and fermenting juices. Ferments are allowed to reach about 28°C. A post-fermentation soak occurs until the wine is just right for removing from the skins and seeds. At that time the ferment is gently pressed in our large tank press. The young wine is sent to barrel for Malo-­lactic fermentation to soften the acidity and to add further complexity. After MLF, the wines are racked once to a mix of new and three-year-old, tight-grained, French oak barrels. The wines are aged in barrel for 18 or more months before bottling.
TASTING NOTES
"Rich aromas of blueberry preserves and 'pinot' earth spice with a lovely balance of tart blackberry, cooked cranberry and wet gravel on the palate. This is a particularly refreshing wine, begging one to drink more and more." -Rollin Soles, Winemaker
---
93 Wine Spectator
90 Wine Enthusiast
---
HOLIDAY SHIPPING OFFERS
12+ bottles
Complimentary Ground
$50 Flat Rate 2-Day Air
6 bottles
$15 Flat Rate Ground
$50 Flat Rate 2-Day Air
HOLIDAY SHIPPING DEADLINES
For arrival by Thanksgiving:
Ground Shipping: order by November 13th
2-Day Air Shipping: order by November 16th
For arrival by Christmas and New Year's Eve:
Ground Shipping: order by December 8th
2-Day Air Shipping: order by December 13th
Please note, these shipping timelines are to be used as a guide only and are subject to carrier and weather delays. Weather holds may apply to Ground Shipping. Holiday delivery not guaranteed. Please place orders early to ensure the timely arrival of your wine!
Wine Specs
Appellation
Chehalem Mountains AVA
Wine Profile
Tasting Notes
"Rich aromas of blueberry preserves and 'pinot' earth spice with a lovely balance of tart blackberry, cooked cranberry and wet gravel on the palate. This is a particularly refreshing wine, begging one to drink more and more." -Rollin Soles, Winemaker 
Sign up for our e-mail newsletter