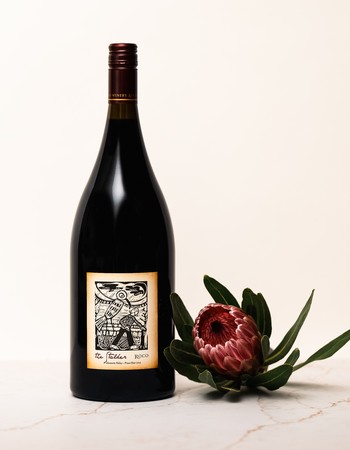 2015 The Stalker Pinot Noir 1.5L
Make it a party with this ROCO classic. Available for a limited time.
ABOUT THE STALKER PINOT NOIR
A wine unlike anything else in the wine world. A blend of our premier estate fruit from Rollin and Corby's Wits' End Vineyards. The Stalker uses a unique winemaking method developed by Rollin in which the grapes are destemmed, the stems are then aged and added back to the fermenting wine. This allows for a wine with bright and pure fruit on the front palate and a richly defined tannic backbone that provides a level of complexity unparalleled in Pinot Noir.
THE STALKER WINEMAKING PROCESS
"There are a few ways that winemakers use grape stalks to flavor their wines... and then there's my way. While I've never been a fan of whole cluster fermentation for my wines, I am influenced by the way the Valpolicella region of Italy age whole clusters. I also agree with the late winemaker, Aaron Hess' distaste for fresh stalks. And, I have an abiding love of whole berry fermentation. With these preferences in mind, I took a 'walk on the wild side' to produce a unique Stalker Pinot Noir. I found a technique allowing 100% of the stems to age for 10 days before being incorporated into the Pinot Noir berries at the start of fermentation. The rest of the process will remain a mystery. I can tell you that it takes a heck of a lot of manual work, but the results in a wine with spice-laced tannin from the stalks, without the "greenness" of a traditional whole cluster press, similar to the stylings of Mescal. The unexpected surprise in an increased sense of mid-palate texture. After fermentation, the pressing and barreling remains the same as for our other Pinot Noirs. The wine is aged in a mix of new to three-year-old French oak barrels for at least 18 months." -Rollin Soles, Winemaker
2015 VINTAGE NOTES
This growing season was one of those warm, sunny experiences that we all desire in the often challenging Willamette Valley. Other than a spot of high temperatures, nearly the entirety of August punched in the 80's with clear blue skies and virtually no precipitation occurred all summer long. The vines were obviously struggling under persistent sunshine and no precipitation, but then August 28-30th brought us a refreshing 1.3 inches of rain! This rainfall perked up the vines, the acid bounced back and fruit flavors became livened once again. We received one more shot of cool rain on September 17th with freezing levels down to 5500 feet. These cloudy cool wet events at the end of the growing season helped to lift the character, and provided a nice zip of flavor. We were able to pick at optimum ripeness beginning around September 4th through September 23rd. The 2015 wines are chock full of great fruit flavor, structure and a mouthwatering dose of delicious freshness and acidity.
WINEMAKER TASTING NOTES
"Plum jam and cherry pie give way to a refined but powerful tannin structure. Just try to catch the fleeting hints of aged grape stems in the mid palate then again during the superb finish! This wine has one thinking about beautifully aged Nebbiolo." -Rollin Soles, Winemaker
93 James Suckling | 92 Vinous | 91 Wine Spectator | 90 Wine Enthusiast | 90 Wine Advocate
---
HOLIDAY SHIPPING OFFERS
12+ bottles
Complimentary Ground
$50 Flat Rate 2-Day Air
6 bottles
$15 Flat Rate Ground
$50 Flat Rate 2-Day Air
HOLIDAY SHIPPING DEADLINES
For arrival by Thanksgiving:
Ground Shipping: order by November 13th
2-Day Air Shipping: order by November 16th
For arrival by Christmas and New Year's Eve:
Ground Shipping: order by December 8th
2-Day Air Shipping: order by December 13th
Please note, these shipping timelines are to be used as a guide only and are subject to carrier and weather delays. Weather holds may apply to Ground Shipping. Holiday delivery not guaranteed. Please place orders early to ensure the timely arrival of your wine!
​Interested in other large-format ROCO wines? Email us at tastingroom@rocowinery.com or give us a call at 503-538-7625.
Wine Specs
Appellation
Willamette Valley AVA
Wine Profile
Tasting Notes
"Plum jam and cherry pie give way to a refined but powerful tannin structure. Just try to catch the fleeting hints of aged grape stems in the mid palate then again during the superb finish! This wine has one thinking about beautifully aged Nebbiolo." -Rollin Soles, Winemaker
Sign up for our e-mail newsletter