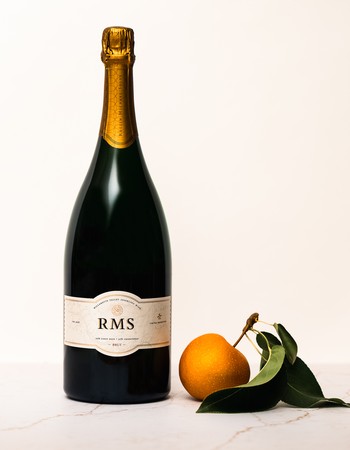 2016 RMS Brut 1.5 L
ABOUT THE RMS BRUT
In 1987, when all other Willamette Valley wine producers were focused on Pinot Noir, Rollin Soles had a different vision. He believed that Oregon was the best place in North America to grow cool climate grapes for sparkling wine. After making wine at Petaluma Winery in Australia, Rollin moved to Oregon and founded Argyle Winery, the state's first sparkling wine production facility.
During his 27+ years with Argyle, Rollin crafted some of the most highly acclaimed New World sparkling wines, which made Wine Spectator's Top 100 wines three times, proof that he has mastered the sophisticated craft of fine Méthode Champenoise. Rollin's vision has become a reality as the world continues to discover that the Willamette Valley's cool, maritime climate is indeed ideally suited to world-class sparkling wine production.
THE MÉTHODE CHAMPENOISE PROCESS
This labor-intensive process creates the very best Champagne and high-quality sparkling wines around the world. The wine undergoes a secondary fermentation in bottle creating those signature small bubbles. The process starts with the addition of a liqueur de tirage (a wine solution of sugar and yeast) to a bottle of still wine. This triggers that second fermentation inside the bottle which produces carbon dioxide and lees, or spent yeast cells, which collect at the neck during the riddling process. After an extended time on lees, the bottles are disgorged and the lees is replaced with a solution of wine and sugar, which gives sparkling wine its sweetness.
2016 VINTAGE NOTES
This growing season started with cool, wet spring weather, which created random, poor fruit set in some blocks. May and early June saw a few high heat spikes, but overall the summer's warm, sunny weather kicked growth into gear. Then a cold, wet, "Alaska" front perked the vines up around the 17th of August. Refreshed fruit sailed into a beautiful fall harvest where growers and winemakers alike enjoyed a nice and steady pace of picking perfectly ripened wine grapes. The resulting wines are robust without losing that ROCO juicy-centered youthfulness.
WINEMAKER'S TASTING NOTES
"No two vintages in the Willamette Valley are identical. So goes our RMS Brut program! Look for an especially floral nose of orange/lemon citrus blossom and white chrysanthemum framed by yeasty, toasted baguette. With the tiniest of bubbles dancing across your tongue, look for an amazing complexity of fresh Anjou pear, white grapefruit, Kaffir lime leaf, and hints of guava and Buddha Hand citrus. Crisp, palate-tingling minerality at the foundation leads to a spectacular pear, yeast, and white nectarine finish." - Rollin Soles, Winemaker
94 Washington Wine Blog | 94 Wine Enthusiast (Editors' Choice) | 91 Wine Spectator
---
HOLIDAY SHIPPING OFFERS
12+ bottles
Complimentary Ground
$50 Flat Rate 2-Day Air
6 bottles
$15 Flat Rate Ground
$50 Flat Rate 2-Day Air
HOLIDAY SHIPPING DEADLINES
For arrival by Thanksgiving:
Ground Shipping: order by November 13th
2-Day Air Shipping: order by November 16th
For arrival by Christmas and New Year's Eve:
Ground Shipping: order by December 8th
2-Day Air Shipping: order by December 13th
Please note, these shipping timelines are to be used as a guide only and are subject to carrier and weather delays. Weather holds may apply to Ground Shipping. Holiday delivery not guaranteed. Please place orders early to ensure the timely arrival of your wine!
​Interested in other large-format ROCO wines? Email us at tastingroom@rocowinery.com or give us a call at 503-538-7625.
Wine Specs
Varietal
Chardonnay/Pinot Noir
Appellation
Willamette Valley AVA
Wine Profile
Tasting Notes
"No two vintages in the Willamette Valley are identical. So goes our RMS Brut program! Look for an especially floral nose of orange/lemon citrus blossom and white chrysanthemum framed by yeasty, toasted baguette. With the tiniest of bubbles dancing across your tongue, look for an amazing complexity of fresh Anjou pear, white grapefruit, Kaffir lime leaf, and hints of guava and Buddha Hand citrus. Crisp, palate-tingling minerality at the foundation leads to a spectacular pear, yeast, and white nectarine finish." - Rollin Soles, Winemaker
Sign up for our e-mail newsletter