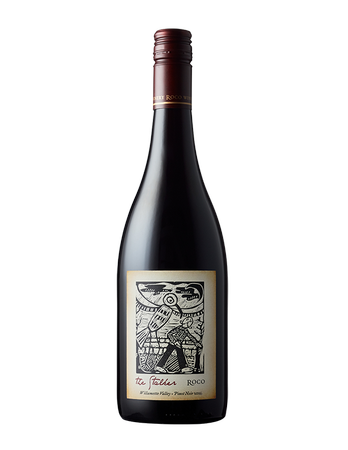 2016 The Stalker Pinot Noir 1.5L
Winemaker's Vintage Notes
The 2016 growing season started out beautifully and ended up that way too, rich and wonderful. The gentle warm weather allowed the grape flowers to pollenate in large numbers resulting in many grape clusters. We knew then that we would spend a lot of money thinning clusters so that we wouldn't have too much fruit on the vines.
Fifty days after flower bloom, we estimated our final crop load and made plans to thin. We cut off half to 2/3 of our young, green fruit clusters to ensure full ripeness in our wines. The cost of this work is HIGHER than the cost of harvesting. After experiencing other warm vintages like 2006, 2003, and 2009…we knew what to do! The summer continued to be dry and sunny. (If all our summers were like this we'd have 30 million residents in Oregon instead of 4 million!)
June to September was VERY dry. Fortunately, we have irrigation available at the majority of ROCO vineyard sites. Cold rain events at the end of August and mid September were very welcomed. I think this bit of precipitation perked the vines up, delivering extraordinary fruit. We harvested fruit from the 11th of September to 5th of October.
Sparkling wine grapes showed ripe fruit and high acidity. The Chardonnay came in delicious and complex. While the Pinot Noirs were exceptionally dark colored, powerful, textured and balanced.
Stalker Winemaking Process
There are a few ways that winemakers use grape stalks to flavor their wines... and then there's my way. While I've never been a fan of whole cluster fermentation for my wines, I am influenced by the way the Valpolicella region of Italy age whole clusters. I also agree with the late winemaker, Aaron Hess' distaste for fresh stalks. And, I have an abiding love of whole berry fermentation. With these preferences in mind, I took a bit of a "walk on the wild side" to produce a unique Stalker Pinot Noir. I found a technique allowing 100% of the stems to age for 10 days before being incorporated into the Pinot Noir berries at the start of fermentation. The rest of the process will remain a mystery. I can tell you that it takes a heck of a lot of manual work, but results in a wine with spice-laced tannin from the stalks, without the "greenness" of a traditional whole cluster press, similar to the stylings of Mescal. The unexpected surprise is an increased sense of mid-palate texture. After fermentation, the pressing and barreling remains the same as for our other Pinot Noirs. The wine is aged in a mix of new to three year-old French oak barrels for at least 18 months
Winemaker's Tasting Notes
"Brambly and black peppercorn spice driven aromatics compliment the ripe, black cherry fruit on the nose. The profound chunky structure and the mid-palate notes of sandalwood is paired with rich, black cap raspberry, gooseberry and lilac. Full, grain leather and wet stone come through on this powerful finish." - Rollin Soles, Winemaker
---
93 International Wine Report
92 Wine Enthusiast
91 James Suckling
91 Wine Spectator
Wine Specs
Appellation
Willamette Valley AVA
Wine Profile
Tasting Notes
"Brambly and black peppercorn spice driven aromatics compliment the ripe, black cherry fruit on the nose. The profound chunky structure and the mid-palate notes of sandalwood is paired with rich, black cap raspberry, gooseberry and lilac. Full, grain leather and wet stone come through on this powerful finish." - Rollin Soles, Winemaker
Sign up for ROCO's email newsletter