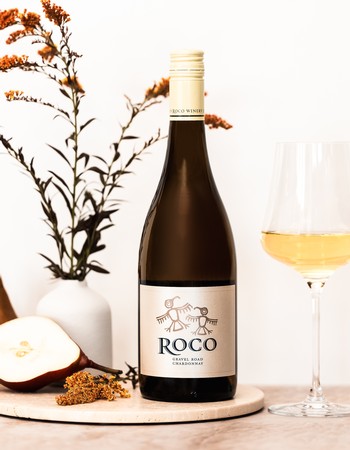 2020 Gravel Road Chardonnay
ABOUT GRAVEL ROAD CHARDONNAY
Gravel Road Chardonnay is a blend of our three favorite Chardonnay vineyards in the Willamette Valley: Gran Moraine, Marsh Estate, and Knudsen Vineyards. The first two vineyards grow in low to mid elevation, in sandstone-shale derived soils that provide a lovely creamy texture. While Knudsen Vineyards is located at a high elevation in volcanic derived soil that adds a racy minerality to this unique Chardonnay.
WINEMAKING PROCESS
ROCO Chardonnay is handpicked and then chilled overnight at 38˚ F in a large storage room. The chilled bunches are then pressed and the juice is sent to a tank. After settling in tank, the juice is inoculated and racked to neutral oak where it completes fermentation. After primary fermentation is complete, the young wine goes through malolactic fermentation in order to soften the acidity and to add further complexity. Next, the wines are racked to a mix of new and neutral French oak. There they rest for at least five months before bottling.
---
HOLIDAY SHIPPING OFFERS
12+ bottles
Complimentary Ground
$50 Flat Rate 2-Day Air
6 bottles
$15 Flat Rate Ground
$50 Flat Rate 2-Day Air
HOLIDAY SHIPPING DEADLINES
For arrival by Thanksgiving:
Ground Shipping: order by November 13th
2-Day Air Shipping: order by November 16th
For arrival by Christmas and New Year's Eve:
Ground Shipping: order by December 8th
2-Day Air Shipping: order by December 13th
Please note, these shipping timelines are to be used as a guide only and are subject to carrier and weather delays. Weather holds may apply to Ground Shipping. Holiday delivery not guaranteed. Please place orders early to ensure the timely arrival of your wine!
Wine Specs
Appellation
Willamette Valley AVA
Sign up for our e-mail newsletter