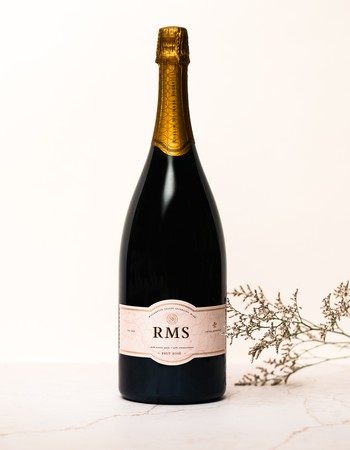 2020 RMS Brut Rosé 1.5 L
ABOUT THE RMS BRUT ROSÉ
Having founded Oregon's first sparkling wine production facility, Argyle Winery, it's only natural that Rollin would bring his 30+ years of sparkling expertise to ROCO.
During his 27+ years with Argyle, Rollin crafted some of the most highly acclaimed New World sparkling wines, which made Wine Spectator's Top 100 wines three times, proof that he has mastered the sophisticated craft of fine Méthode Champenoise. Rollin's vision has become a reality as the world continues to discover that the Willamette Valley's cool, maritime climate is indeed ideally suited to world-class sparkling wine production.
THE MÉTHODE CHAMPENOISE PROCESS
Ripe but high acidity wine grapes of Pinot Noir and Chardonnay are gently and slowly pressed. The heart juice of the grape berry is collected and fermented in small French Oak barrels to produce a tart still wine. Then, in late winter, this wine is given a small, precise amount of sugar with a sparkling wine yeast. Pushed into a capped Champagne bottle, a second fermentation ensues for about four weeks. The bottles of wine, yeast, and lots of bubbles are then aged in cool storage for 2.5 years. Next, the wine bottles are riddled, or shaken and turned upside down, causing the yeast residue to collect behind the crown cap for removal. Once the yeast is removed, or disgorged, a carefully calibrated "dose" of a few milliliters of a rich wine and sugar mix is added to each bottle prior to corking and wire basketing. The result is delicious sparkling wine. Cheers!
WINEMAKER'S TASTING NOTES
"Delicate pink in color. Look for aromas of strawberry crème, peruvian peppercorn, delicate lychee, white peach and blood orange citrus. The palate is signature RMS opulence. The mid-palate is rich yet, the acidity lends a salivary grabbing pleasure. Texture is gripping and broad, with cranberry/pomegranate kernel/blackcap raspberry/red plum fruits, rose hip like citrus, red rose petal floral notes conjoined to make this sparkling wine one of our richest, most complex Vintage Brut Rosé' yet!" - Rollin Soles, Winemaker
---
HOLIDAY SHIPPING OFFERS
12+ bottles
Complimentary Ground

$50 Flat Rate 2-Day Air
6 bottles
$15 Flat Rate Ground

$50 Flat Rate 2-Day Air
HOLIDAY SHIPPING DEADLINES
For arrival by Thanksgiving:
Ground Shipping: order by November 13th

2-Day Air Shipping: order by November 16th
For arrival by Christmas and New Year's Eve:
Ground Shipping: order by December 8th

2-Day Air Shipping: order by December 13th
Please note, these shipping timelines are to be used as a guide only and are subject to carrier and weather delays. Weather holds may apply to Ground Shipping. Holiday delivery not guaranteed. Please place orders early to ensure the timely arrival of your wine!
​Interested in other large-format ROCO wines? Email us at tastingroom@rocowinery.com or give us a call at 503-538-7625.
Wine Specs
Appellation
Willamette Valley AVA
Wine Profile
Winemaker Notes
30 Month Tirage
Sign up for our e-mail newsletter